Below, Exec Producer Jeff Kline talks about the overall tone of the new show, Robots in Disguise at NY ComicCon

Lukis Bros: Alright, let't talk about your more recent projects. You started Darby Pop publishing. How/when did this come to be? From children's television producer to comics? These two industries are certainly related, but don't have that much overlap. Perhaps you can tell us about how your career in one field led to work in another.
Kline: THE OVERLAP STARTED FOR ME WHEN I WAS YOUNG -- I GREW UP ON CARTOONS, AND I GREW UP ON COMIC BOOKS. AND THERE'S MORE OVERLAP BETWEEN THE TWO THAN YOU MIGHT THINK; MANY OF THE ARTISTS WORKING ON THE VARIOUS TRANSFORMERS SERIES ALSO DRAW (OR WRITE) FOR COMICS. FOR ME, COMIC BOOKS ARE A WAY TO TELL A STORY WITH A SMALLER CREATIVE TEAM… FASTER… WITH FEWER LIMITATIONS (ESPECIALLY BUDGET)… AND WITHOUT MUCH INTERFERENCE. IF PRODUCING TRANSFORMERS PRIME IS LIKE PERFORMING AT THE STAPLES CENTER, WRITING/EDITING INDESTRUCTIBLE IS LIKE DOING AN ACOUSTIC GIG AT A COFFEEHOUSE. AND BOTH ARE WHOLLY SATISFYING IN THEIR OWN WAY.
LukisBro: Do you prefer working in one field to another and why?
Kline: NO. I PREFER TO WORK IN AS MANY "FORMS" AS POSSIBLE -- MOVIES, TV, WEB, COMICS -- OFTEN SIMULTANEOUSLY. HMMM… MAYBE I REALLY AM A WORKAHOLIC...
LukisBro: What are your longer term plans for the comics published under this title…
Kline: DARBY POP PUBLISHING DROPPED ITS 5TH TITLE -- DEAD SQUAD -- IN OCTOBER. BY SUMMER '15, WE'LL HAVE NEARLY 40 FLOPPIES AND/OR TRADE PAPERBACKS IN THE MARKETPLACE. THAT'S PRETTY AMAZING WHEN YOU CONSIDER THAT WE ANNOUNCED THE COMPANY AT SAN DIEGO COMIC CON AS RECENTLY AS JULY '13. MY HOPE IS TO MATCH OR BETTER OUR CURRENT OUTPUT IN '15 AND '16 AND BEYOND. THERE ARE SO MANY STORIES I THINK ARE WORTH TELLING…
SO MANY VOICES (AND ARTISTS) I WANT TO GIVE A PLATFORM TO. BUT, IT'S NOT AN EASY BUSINESS; THERE ARE 450-500 NEW TITLES FIGHTING FOR ATTENTION EACH MONTH. HOW DO YOU LET READERS KNOW YOU EXIST? HOW DO YOU RECRUIT NEW READERS? HOW DO YOU SURVIVE?
LukisBro: So, I had some difficulty locating paper versions of these books originally. Now I find that they are available for digital download on the IDW comics ap. Can explain the relationship? This is certainly a good thing from a recognition standpoint. Transformers fans will know you from TF:Prime and Rescue Bots, are many of the people who buy Transformers comics. Two different comics publishers, working together for the greater good to topple the other comics juggernauts!?
Kline: WE WERE FORTUNATE ENOUGH TO HAVE IDW AGREE TO DISTRIBUTE DARBY POP'S OUTPUT RIGHT FROM THE START. WE DELIVER THEM FINISHED BOOKS, AND "RENT" THEIR DISSEMINATION INFRASTRUCTURE. I KNEW SOME OF THE TEAM OVER THERE THANKS TO THE TF AND G. I. JOE BOOKS, BUT IT WAS OUR EDITOR-IN-CHIEF, DAVID WOHL, WHO REALLY MADE THAT PARTNERSHIP HAPPEN. IDW LENT US INSTANT CREDIBILITY WITHIN THE INDUSTRY. AND OFFERED EXPERTISE WE SORELY LACKED. BUT, THAT DOESN'T CHANGE THE FACT THAT IDW PUTS OUT 80-90 BOOKS PER MONTH THEMSELVES, AND VERY FEW STORES CAN AFFORD TO CARRY ALL THOSE TITLES. IN FACT, MANY STORES STOCK ONLY THE TOP 50 OR 100 SELLERS (INCLUDING MARVEL AND DC SUPERHERO TITLES), AND IGNORE THE OTHER 350-400 TITLES BEING PUBLISHED EACH MONTH. IT'S A CATCH-22: POTENTIAL BUYERS WON'T LEARN ABOUT YOU (OR BE ABLE TO FIND YOUR BOOKS) UNLESS YOU'RE BEING STOCKED BY THEIR LOCAL COMIC BOOK STORE. BUT, MANY COMIC BOOK STORES STOCK ONLY THOSE TITLES THEIR CUSTOMERS SPECIFICALLY REQUEST. IF ANYONE HAS A GENIUS SOLUTION FOR SAME… PLEASE EMAIL US AT This email address is being protected from spambots. You need JavaScript enabled to view it. IMMEDIATELY!!! (I WISH I WAS KIDDING…)
Lukis Bros: Okay, Let's talk about INDESTRUCTIBLE! Or is it INDESTRUCTIBLE?! :) You are credited as creator and writer on first several issues. I'd call it a 'Humorous, Rated-R version of the Incredibles! - What it'd be like if super-heroes really existed in our modern-day, celebrity-obsessed world. What can you tell us about how this series came to be and its current and future development?
Kline: INDESTRUCTIBLE WAS ONE OF THOSE IDEAS IN MY HEAD THAT JUST WOULDN'T GO AWAY. LIKE A MIGRAINE. IN A WORLD WHERE SUPERHEROES ARE REAL, IT STANDS TO REASON THAT THEY'D BE TREATED LIKE CELEBRITIES. BUT, WHAT IF SOMEONE WAS MISTAKEN FOR A SUPERHERO… GOT A BRIEF TASTE OF THE "LIFE"… AND DECIDED THAT -- FOR WHATEVER REASON -- HE/SHE DIDN'T WANT TO "GO BACK." HOW COULD THAT PERSON MAINTAIN THE RUSE WITHOUT GETTING KILLED? OR, TO DRAW A MORE REAL-WORLD PARALLEL: IF YOU WERE CAST IN A REALITY SHOW… BUT, VOTED OFF OR SENT HOME EARLY OR WHATEVER…
WOULD YOU BE SATISFIED WITH THAT EXPERIENCE? OR, MORE LIKELY, WOULD YOUR BRIEF BRUSH WITH FAME MOTIVATE YOU TO WANT TO PROLONG YOUR (QUESTIONABLE) "CELEBRITY?" WHAT WOULD YOU BE WILLING TO DO TO STAY IN THE SPOTLIGHT? COMMIT A CRIME? LEAK A PORNO? STAGE A SHAM WEDDING? AND WHAT PRICE DO YOU PAY FOR FAME? WHOM DO YOU HAVE TO LIE TO? YOUR FRIENDS? YOUR FAMILY? YOURSELF?
Lukis Bros: I notice the name "Darby" comes up a lot in your work - "Jack and June Darby" in TF-Prime "Darby Pop" comics... What's that all about?
MY DAUGHTER'S NAME IS DARBY. AND SHE IS BY FAR MY SINGLE BIGGEST INSPIRATION. IF YOU WANT TO GO BACK EVEN FURTHER, CHECK OUT DISNEY'S "MY FRIENDS TIGGER AND POOH." (FUN FACT: IN THAT SERIES, DARBY WAS VOICED BY FUTURE MEGA-STAR CHLOE GRACE MORETZ. IT'S TRUE…)
Lukis Bros: Are there any other real-life references we should know about in this or other series? I can almost imagine that you had a college roommate/brother living at home with his/your parents who be the type to weasel his way to be your guest at the Emmy awards, rather than let you go with your wife! -(Like Indestructible's side-kick ;)
Kline: ARTHUR AND JUNE -- GREG'S PARENTS -- ARE BASED ON MY PARENTS… WHOSE NAMES ARE -- WAIT FOR IT -- ARTHUR AND JUNE. CATHY (GREG'S PRIMARY LOVE INTEREST) IS MY WIFE'S NAME. NANCY (GREG'S SISTER-IN-LAW) IS ONE OF MY OLDEST/BEST FRIENDS… AND HER REAL-LIFE HUSBAND'S NAME IS -- ONCE AGAIN, WAIT FOR IT -- GREG PINCUS. TRUST ME -- THERE'S MORE.
I'D LIKE TO TELL YOU THAT I DO THIS TO HONOR MY FRIENDS AND FAMILY. AND THAT WOULD BE PARTLY TRUE. BUT, THE OTHER TRUTH IS THAT IT'S MUCH EASIER FOR ME TO REMEMBER THE NAMES OF THE CHARACTERS I'M WRITING IF I KNOW AN ACTUAL PERSON WITH THE SAME MONIKER.
Lukis Bros: In general terms, where do you see this and other Darby Pop comic series going in the future? Movie deals and merchandizing, or just hoping to make it to issue 10 or 100?! ... What are your dreams and goals for this potential franchise.
Kline: I WANT ALL OF DARBY POP PUBLISHING'S TITLES TO HAVE SALES THAT JUSTIFY HUNDREDS OF ISSUES… EVENTUALLY BECOME BIG MOVIE AND TV FRANCHISES… SPAWN TOYS AND BEDSHEETS AND GROOMING PRODUCTS… AND BECOME BELOVED ICONS OF TODAY'S YOUTH. IN LIEU OF THAT… I'D REALLY LIKE TO SELL ENOUGH BOOKS TO KEEP PUBLISHING… 'CUZ THIS COMIC BOOK THING IS A HELL OF A LOT OF FUN!
Lukis Bros: Okay, let's talk about future television projects. With the recent news (It was "recent" back when these questions were written up a few months ago!) that Hasbro will no longer have a controlling interest in The Hub Network, what does this mean for Hasbro Studios and the upcoming series? Do you have any sense of when we'll see our first episode?
Kline: SEE PREVIOUS... THE MOTIVATION BEHIND MOVING ROBOTS IN DISGUISE TO CARTOON NETWORK WAS TO PUT THE SERIES IN FRONT OF MORE EYEBALLS RIGHT OUT OF THE GATE; CN IS ON MORE CABLE SYSTEMS ACROSS AMERICA THAN DISCOVERY FAMILY. BUT, I HAVE YET HEARD WHAT ITS TIMESLOT WILL BE.
Lukis Bros: Without giving away specific plot details, talk about the overall tone and themes of this show. Rumor has it, it's intended to be "kid oriented" and "lighter"... but from the clip shown at SDCC, seems like the stakes are once again very high, the mood low (with Optimus deceased) and Bumblebee leading the bunch. Any comment here?
Kline: ROBOTS IN DISGUISE IS DEFINITELY A LIGHTER, MORE COMEDIC TAKE ON THE TRANSFORMERS UNIVERSE. THERE'S NO ANCIENT WAR BEING FOUGHT, MEANING WE CAN ACTUALLY TAKE THE TIME TO SET-UP A JOKE, AND NOT FEEL GUILTY ABOUT IT. BEE IS FRONT AND CENTER. OPTIMUS' STATUS IS MORE MYSTERIOUS THAN SORROWFUL. AND THERE'S A YOUNGER, MORE INEXPERIENCED (AKA LESS BATTLE-WEARY) CAST OF CHARACTERS.
VISUALLY, THE SERIES IS ABSOLUTELY PUSHING THE BOUNDARIES OF WHAT IS TECHNOLOGICALLY POSSIBLE WHEN MIXING 3D CHARACTERS WITH 2D BACKGROUNDS. ONCE AGAIN, WE'RE DOING ALL THE DESIGN WORK, ALL THE STORYBOARDS, ETC. IN-HOUSE… BUT PARTNERING WITH OUR PALS AT POLYGON FOR THE ACTUAL ANIMATION -- 'CUZ THOSE GUYS ARE THE BEST THERE EVER WAS...
Lukis Bros: The music suggests it's going to get my adrenaline flowing! Brian Tyler did a great job on Transformers Prime. Is he involved again?
Kline: KEVIN KINER (HELL ON WHEELS, CLONE WARS) AND KEVIN MANTHEI (ULTIMATE SPIDER MAN) ARE THE MEN BEHIND THE MUSIC THIS GO-ROUND. AND THEY HAVE THEIR WORK CUT OUT FOR THEM 'CUZ WE SWITCH-UP TONE ON A DIME.
Lukis Bros: Let's talk about creative contributors! I ran into Alex Irvine, author of Transformers: Exodus, (the story of the War for Cybertron -novel) the other day... we got to chatting about Transformers, and you, and living in Maine... Would be great to have an author with such extensive knowledge on Transformers history to be on board the new cartoon series...
Kline: I WILL HAPPILY CONFIRM THAT ALEX IRVINE WROTE AN EPISODE IN SEASON ONE. I WILL SIMILARLY CONFIRM THAT "OLD FAVORITES" LIKE STEVE MELCHING AND MAIRGHREAD SCOTT RETURNED TO THE FOLD. (NEITHER OF WHOM IS ACTUALLY "OLD," BY THE BY…).
Lukis Bros: Mairghread Scott, Polygon Studios... Does, Robots in Disguise developers include much the same creative team as worked on Transformers Prime?
Kline: THE BULK OF THE ROBOTS IN DISGUISE TEAM IS THE SAME AS THE PRIME TEAM. AND THAT'S BY DESIGN. I HAVE A VERY SMALL "CIRCLE OF TRUST"...
Lukis Bros: So Mairghread Scott, author of the IDW "mini-series" Windblade, will she be continuing writing duties for the new shows?
Kline: MAIRGHREAD ACTUALLY WROTE MULTIPLE EPISODES OF RID SEASON 1, AND CONTINUES TO DO SO IN SEASON 2.

BY THE BY, INTERNALLY, MAIRGHREAD'S NICKNAME IS "WILD" ... WHICH IS A PLAY ON HER MIDDLE NAME. AND MUCH EASIER TO SPELL THAN "MAIRGHREAD."
Lukis Bros: In general terms, how do you want the series to be different?
Kline: LIGHTER. BRIGHTER. EVEN A LITTLE GOOFIER. 'CUZ WE'VE ALWAYS VIEWED THE AUTOBOTS (AND DECEPTICONS) AS PEOPLE, NOT MACHINES. AND PEOPLE ARE FUNNY!
Lukis Bros: How closely connected is this series from TF:Prime predecessor? Will we need to re-watch Predacons Rising to keep up?
Kline: ROBOTS IN DISGUISE IS IN CONTINUITY, BUT DOES NOT PICK-UP RIGHT WHERE PRIME LEFT OFF. REGARDLESS, ABSOLUTELY NO PRIOR KNOWLEDGE IS NECESSARY.
Lukis Bros: Is the set-up for this series still: the Autobot-Decepticon war is basically over, now they're on to face new challenges? Are the Predacons involved?…
Kline: NO WAR. WAR IS HELL. AND, TO BE HONEST, A LITTLE TOO EVER-PRESENT IN OUR WORLD TODAY...

Jose Lopez: talks about character design and esthetics
* Khary Payton talks about getting the part for Grimlock
* Will Friedle talks about landing the part of Bumblebee
* Michael Whitfield gets stoked playing Peter Cullen Optimus...
* Constance Zimmer talks Strongarm!



Lukis Bros: Isn't that the truth. Fanboy note: Sideswipe was my first Transformers toy I ever bought. Always has been a favorite, even though he was never given much character development/screen time in the original shows. Super glad to see you may be breathing new life into him with Robots in Disguise! Hopefully, you don't plan to snuff out that life in the first five minutes of episode 1, the way you did with Cliffjumper!

Meet Sideswipe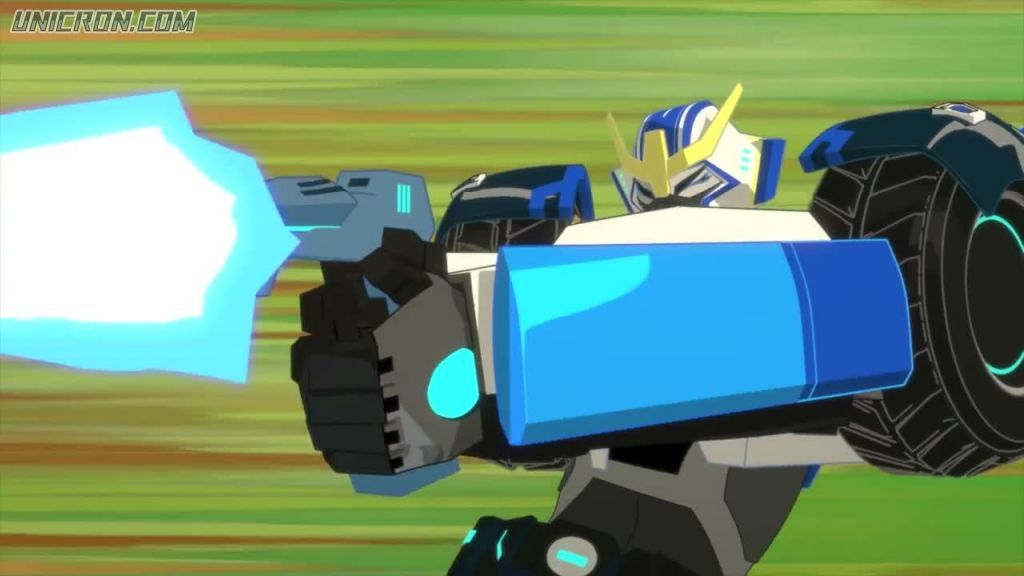 Lukis Bros: I think it's worth noting the demographics at Botcon and other Transformers fan-panels. My brothers and I while attending, will sometimes count up and it's amazing how in early years it was 95:5 male:female ratio. Now, every year, it gets closer to 50:50. And getting to know many female Transformers fans, it's obvious to me, that they aren't just male fan's "significant others" being dragged beyond their will! The fact is, there are many female TF/SciFi fans. and it appears that Hasbro Studios, and Hasbro in general have taken notice. Was happy to see Arcee protrayed as the stroing, awesome character she was in TF: Prime. Are the rumors true that the next series includes a pick-up truck named "Strong Arm" who is famale? I hope so! Way to keep breaking down the stereotypes! Talk about this - FemBots and FemHumans role in Transformers. (and "Strong Arm" if you can.)
Kline: THERE'S THIS UNSPOKEN RULE (WELL… SOMETIMES IT'S FOOLISHLY SPOKEN) THAT YOUNG BOYS WON'T EMBRACE FEMALE CHARACTERS, BUT YOUNG GIRLS WILL EMBRACE MALE CHARACTERS… SO, YOU MIGHT AS WELL POPULATE YOUR WORLD EXCLUSIVELY WITH MALES. OUR POINT-OF-VIEW HAS ALWAYS BEEN: A GREAT CHARACTER -- WHETHER HEROIC OR VILLAINOUS -- INTERESTS BOYS AND GIRLS. END-OF-STORY. SO, YES, THERE WILL BE MORE FEMALES. AND THEY WILL KICK ASS!
Lukis Bros: Let's talk about art style. Polygon Studios involved? It looks like a beautifully meshed cell with 3D computer animation. What look are you going for here? The only downside of 3D computer animation is fewer characters, will the cast be bigger/smaller or about the same as that of TF: Prime. Shown below, Jeff Kline (front row center with both hands up!) with the Tokoyo - crew of Polygon Studios! These are the talented artists and pros who brought Transformers Prime, and soon Robots in Disguise to animated life!
Kline: ONE OF THE REASONS WE WENT WITH A 3D/2D HYBRID VS. 100% 3D WAS SO THAT WE COULD BUILD AND FEATURE MORE CHARACTERS EPISODE-TO- EPISODE AND ACROSS THE ENTIRE SEASON. AND BELIVE ME… WE'RE GONNA SPEND EVERY DOLLAR THEY GIVE US.....

Zimmer talks Strongarm, Hartman (Director) talks about series development

Lukis Bros: Bumblebee is leader? Or should we expect that he's just holding down the fort until Optimus Prime returns?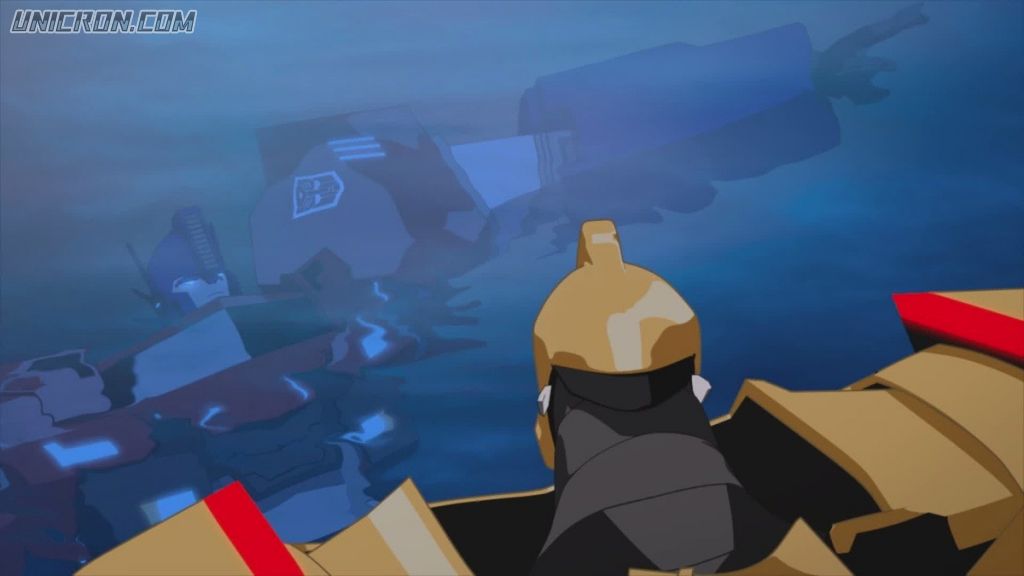 Kline: YOU'LL HAVE TO WATCH TO FIND OUT.
Lukis Bros: Setting mostly on Cybertron? or Mostly on earth?
Kline: EARTH. 'CUZ THE LOCATIONS WERE CHEAPER TO RENT.
Lukis Bros: And with that I think we'll wrap things up. While there are a great may other things we could ask about, we do want to keep this as spoiler-free as we can, and look forward to enjoying it as the series plays out. It's like Holiday season now for us fans, the anticipation of the event, and this series debut continues to build! Jeff, thank you again for taking the time to share your thoughts with us and best of luck to you in all of your future endeavors; Transformers and otherwise!
Be sure to 'LIKE' us on Facebook to receive our "almost real time" updates, "ALMOST LIVE" from ToyFair 2015, coming up Saturday Feb 15!
Payton Describes meeting Peter Cullen