"The Unsung Heroes of Transformers Film"

We at TFDb and unicron.com were happy to have the opportunity this August (2016) to visit the set of Transformers 5 where filming of "The Last Knight" was well underway. In a quiet suburb north of Detroit, lies the discrete Michigan Motion Picture Studios facility. I say, "discrete" because from the outside, it appears as a series of generic and fairly uninteresting warehouse buildings. The inside, on the other hand, was another matter entirely!
Our day began with an escorted entrance by Tamar Teifield, VP of Digital Marketing for Paramount Pictures. Establishing the ground rules, we were asked not to take photographs - unless pre-approved, ask lots of questions and have a great time! So, we did!
It was, of course, a "closed set" not open to the public, as it concealed many carefully guarded secrets. So, we donned our press badges, proceeded through security and made our way inside. The tour began with a viewing of one of two sets we would see that day. We've been asked not to divulge exactly what it depicted, but rest assured, the interesting portion of the experience wasn't specifically what it was, but rather the sheer enormity, craftsmanship and incredible attention to detail that blew me away!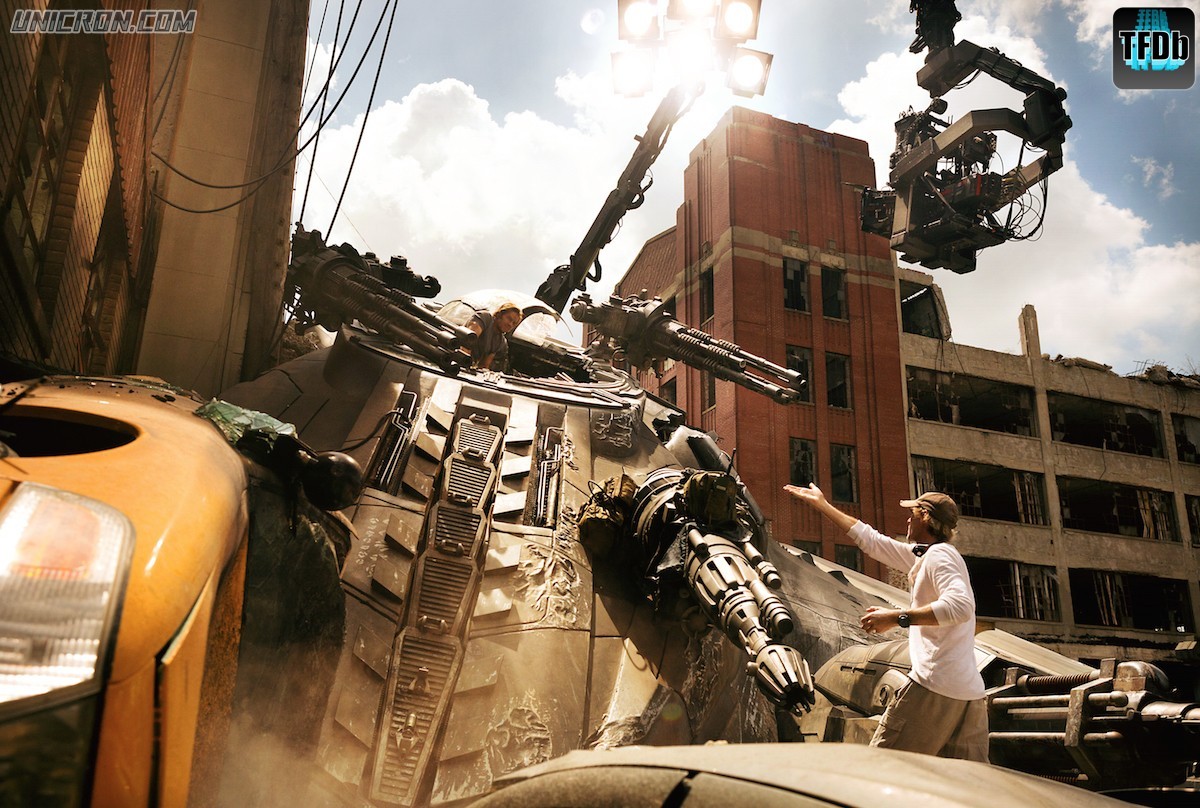 photo courtesy of Paramount Pictures, likely taken by Marc Brown "Behind the Scenes"
Imagine a room, roughly 3 stories high and about as long as a football field. Within it, there was an extremely elaborate, incredibly meched-out Cybertronian landscape, along the lines of Lockdown's ship interior, in Age of Extinction. If you, like me, thought most of what you see on-screen is CGI, you'd be wrong. We marveled at the skillfully handmade Cybertronian architecture which had been constructed all around us. Consider the time it would take to build something so large, authentic and awesome! This, in particular, is what really stuck with me. But who and how many people must it take to create such an elaborate and lifelike world?
Fortunately, I had a great excuse to introduce myself to members of the crew. It shouldn't surprise you to learn that I, one of the co-founders of unicron.com have a Transformers themed home-theater room in my home. On one side stand shelves full of toys and the opposite wall has a row of autographed Transformers movie posters. Over the years, we've had the opportunity to meet Steven Spielberg, Michael Bay, Mark Ryan, voice of Bumblebee and Lockdown, Peter Cullen, Frank Welker, Brian Goldner, Tom DeSanto, Tyrese Gibson and many more. Their autographs are on posters I've collected from the first three films and until this day, my Age of Extinction poster, didn't have any. So, I brought it with me to the set, which offered a wonderful excuse to introduce myself and get to know the crew - the true 'unsung heroes of Transformers films.'
On the first set, I had the chance to meet Mark Vahradian, Executive Producer and Karen Frick, who works as a set decorator. Each was polite and signed my poster, though time allowed for little more than a quick introduction and "Hello!" While I didn't have an opportunity to get much understanding of Mark's roles and responsibilities, Karen's influence and impact was very obvious. Standing amongst this spectacular Cybertronian technological landscape, her work and that of the rest of the set design team were some of the most impressive and amazing things we saw all day. Unfortunately, we were not allowed to take pictures here.
Lorraine Crossman, "Costumer to Mark Wahlberg," was a delight to talk to. She and I watched as Mark did several takes of a scene where he lit a flare, turned to the camera and said something like, "We're going in there!" … I joked with Lorraine about how I could see the striations in Wahlberg's biceps through his shirt from our vantage point ~50 yards away! Smiling ear to ear, she beamed in response, "That's* what we're goin' for!"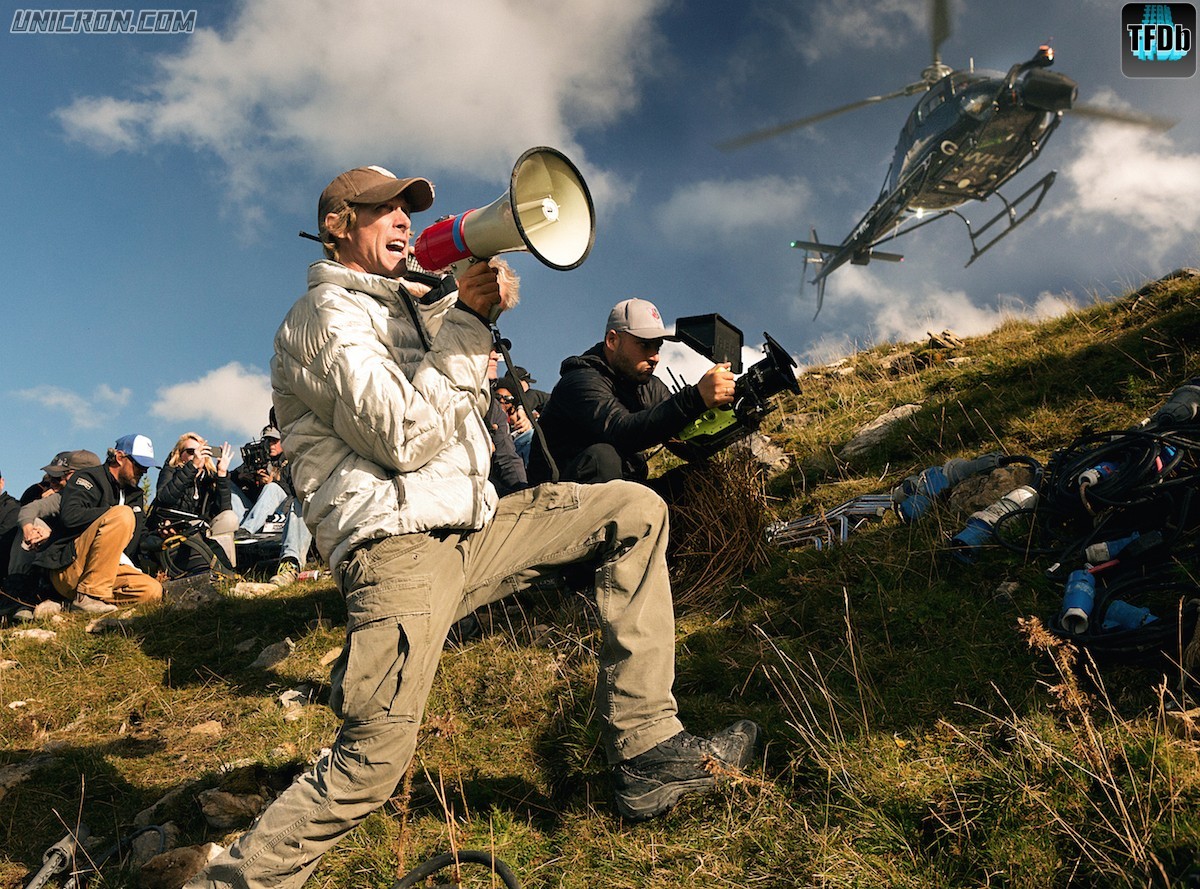 photo courtesy of Paramount Pictures, likely taken by Marc Brown "Behind the Scenes"
Peter Devlin Sound Mixer for all five Transformers films, was another pleasant fellow who signed my poster "MOS." He told me something about this being an inside joke to Sound Mixers in the industry. Perhaps someone who knows more about Sound Mixing than I do, can explain this one to me?!
Between takes, I got to meet Brooks Guyer the Pursuit Camera Operator who laughed when he told me he "must be doing something right!" explaining that he's the only cameraman to work on all 5 Transformers films. (That, or perhaps he just has the highest pain tolerance?! :) He talked a little about shooting with the new RED Dragon Camera and IMAX filming techniques. Sounds awesome, though I must confess the technical details were over my head!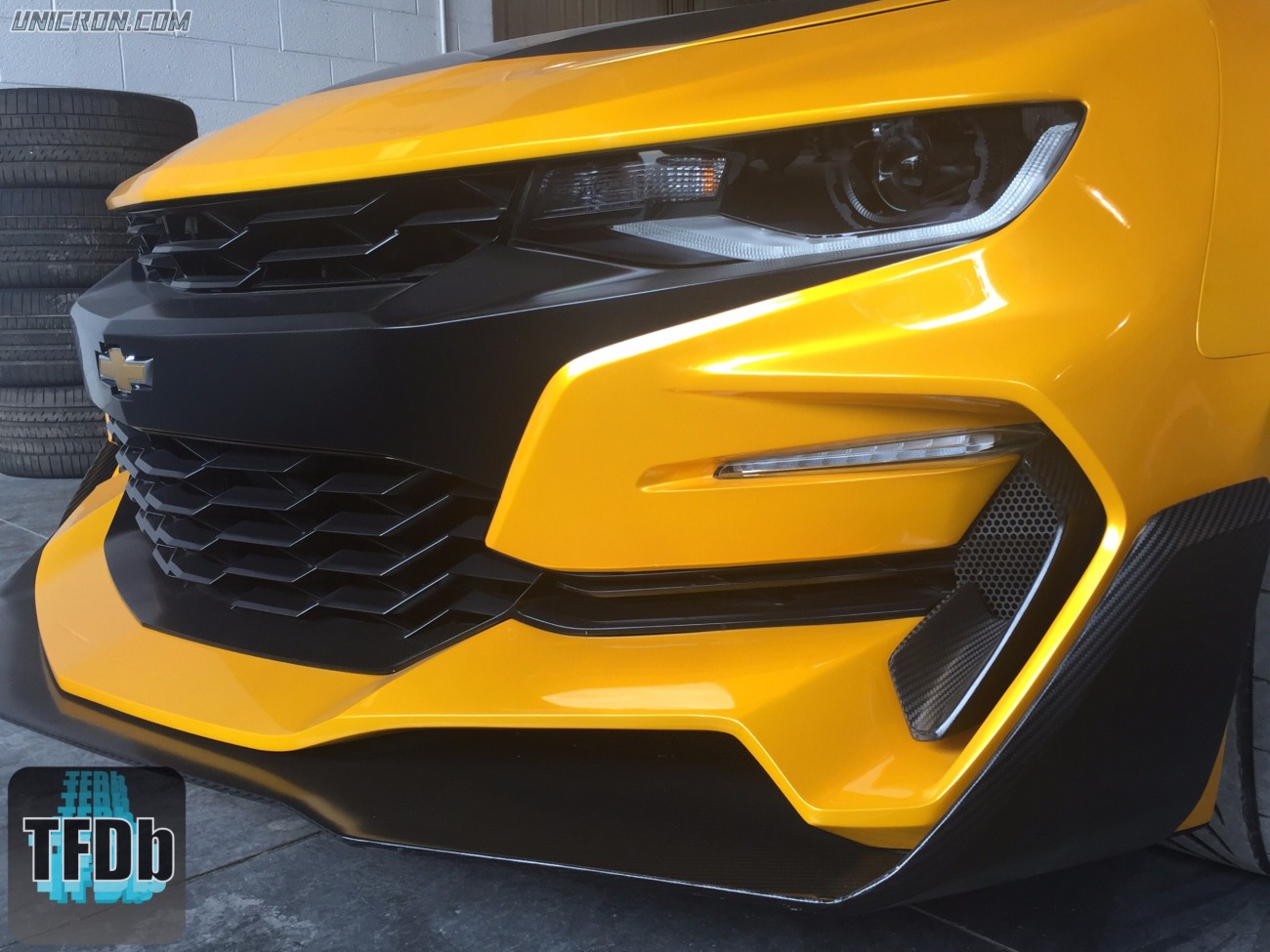 At this early portion of our day, we also met several special effects gurus with ILM – Industrial Light and Magic, the Lucasfilm VFX studio responsible for Transformers CGI and other effects. Will McCoy VFX Location Technician- and Jason Smith ILM VFX Suite were each happy to talk about technical advancements, as they have continued to evolve and improve with each successive film. They were, of course, tight lipped about plot specifics and characters of the The Last Knight.
Harry Humphries, Military Advisor to Michael Bay, provides military personnel insight and talked about how the US and other country's military have been very happy to work with Bay, as his films have proven to be an effective recruitment tool.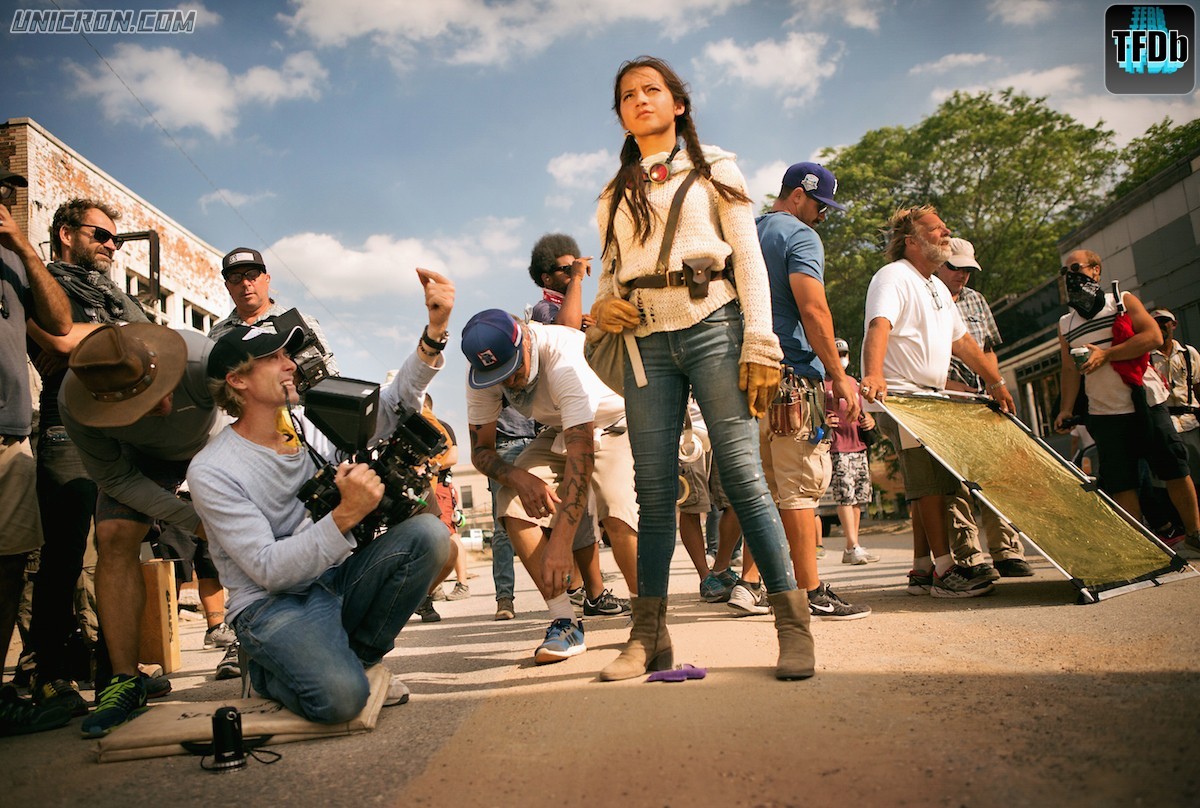 photo courtesy of Paramount Pictures, likely taken by Marc Brown "Behind the Scenes"
The set was amazing and the film crew were genuine and gracious hosts. We got a kick out of watching the actors, Mark Wahlberg and co-star Laura Haddock, doing what they do. After seeing them reenact a scene several times, we made our way to the next stage of the tour.
I'm going to guess that the publicists and PR staff who host these set visits are more accustomed to typical Hollywood reporter-types. That which brings general audience ratings for them (ie. movie star news, casting and gossip etc.) was of much less interest to us, Transformers specific media. For us, the "real movie stars" are the Transformers themselves, which brings me to the next, perhaps favorite portion of our day: the Autobot vehicle garage and "The Boneyard!"
We took a short drive to an off-site location a with a garage and what appeared like a junkyard of derelict vehicles. Turns out, the junk vehicles we saw (shown above) are ones that had been destroyed during "Bayhem" explosion scene filming. A few dozen of these cars lined the back portion of the yard, many of them burned to a molten crisp!
Here, we met the insanely cool Randy Peters, stunt driver for Optimus Prime and other Autobot vehicles. We gathered around the truck, taking photos and posing alongside this massive and gorgeous vehicle. He then turned to us and pointed to a patch of grass, at the far end of their facility parking lot. "Alright everybody! Why don't you walk down there. Turn back and get your cameras ready!" With gleeful anticipation, we did exactly as he instructed and witnessed what you can now see below.
We were then offered a once-in-a-lifetime opportunity to ride inside Optimus Prime, back to the garage where other Autobots (vehicles) waited for their scenes to be filmed!
These cars and other vehicles, were under covers to keep them clean. Kindly enough Mr. Peters took them out so we could see and photograph these spectacular vehicles. In addition to Optimus Prime, we saw other Autobots such as Bumblebee, Hound, and Drift. The Lamborgini (Hot Rod) was already in England, awaiting a scene they would be filming in subsequent weeks.
Onslaught was driven out to our location specially for us to photograph and Barricade, Mohawk (the motorcycle) and Hooligan the rusty Toaster Van were tucked away in a trailer behind the Autobot garage. Peter told me a funny story about how he and Michael Bay "went out car shopping at nearly the last minute" looking for this vehicle which would become Hooligan! We later saw character art showing this guy's robot mode looks like a rusty toaster van version of the "Dreads" threesome seen in Dark of the Moon.
Next, we had lunch and enjoyed the company of Gabriela Gutentag Unit Publicist who works closely with Michael Bay. She offered many interesting insights into what goes into the making and publicizing of these movies as well as advice on what questions to ask (and not ask!) Michael Bay most likely to result in an insightful and positive response.
After lunch we toured the costume studio and met a cadre of other unsung heroes, responsible for bringing our beloved Transformers films to life. Lisa Lovaas Costume Supervisor – is a manager in this department. Seeing everything from modern day military costumes to armored knights, to the carefully selected outfits for each movie star in every scene. Lisa was all smiles as she brought us through the department. She is very enthusiastic about what she does and is obviously a talented artist. One of the skills she joked about, it being her very thorough understanding Michael Bay's tastes, what he likes and doesn't like, that's one of the reasons she gets to keep doing what she does – a career she seems to take considerable delight and pride in!
We also met several other members of the Costumers Department who graciously signed my Age of Extinction poster, and wrote short notes after their names. Chrissy Callan: Assistant Costume Designer "Lisa's friend and Key Costumes," Sarah Yellin, TF4 and 5 Costumes "Look out for Magic Hour!", Dagmarette Yen: costumes, Tony Almaraz, Key Military Costumer "AKA Dead Air Force Crew." Tony explained he signed as he did because, he was in a scene of one of the last films, as a dead Air Force crew member, but the scene got cut and he hasn't made it onto the big screen yet! John and Fahima Atrouni: Tailors were an adorable husband and wife couple, busy sewing what appeared to be a sport coat when we happened to walk through their area.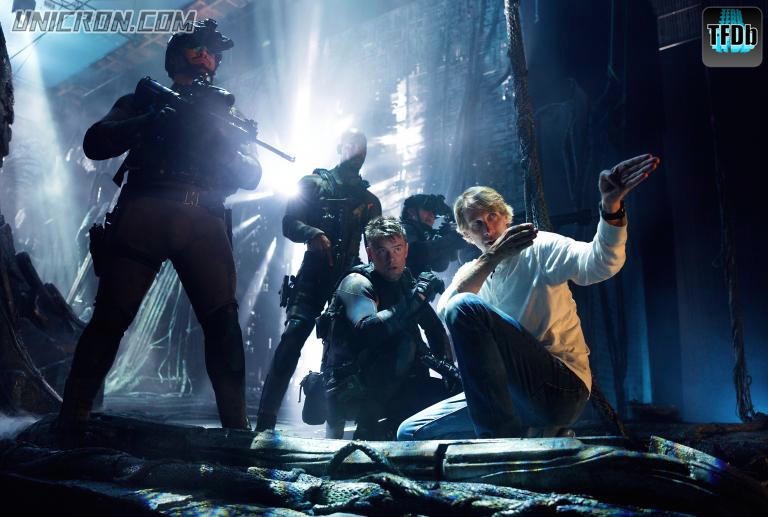 photo courtesy of Paramount Pictures, likely taken by Marc Brown "Behind the Scenes"
The next department we toured contained concept and character art. There was so much to see and take in, we could've spent the entire day here and not been disappointed! Unfortunately, photography and note taking were not allowed and we've been asked not to discuss some of the things we saw. … I can tell you that I got a good look at a size comparison chart for the robot cast to appear in The Last Knight which does include some interesting (not yet revealed) additions. Unfortunately, there was no sign of Age of Extinction Galvatron anywhere. Interpret this as you will... What else can we talk about?
* Since the visit, we have been told that Grimlock is in the beginning of the film, but don't expect him to have a particularly large role.
* We can also confirm that "Mini-Dinobots" are in the film. Although I did not see any art for them there, we found this concept art (above) from TF4, c/o Wesley Burt FB Gallery. This may not bear any resemblance to what we'll see in The Last Knight, but it's still fun to see and imagine.
* I can also say that we spent some significant time staring at the concept art for the dragon! It looked so !@#$% cool - Optimus Prime duking it out with a multi-headed beast-bot... beyond awesome!! Yes, we know who it is, but are not allowed to say. (It is not Hun-Gurrr.)
* While there, we learned a little about this idea of "Transformers through time" and why they are so keen on Earth. As was eluded to in Revenge of the Fallen, Transformers have been on Earth a very long time. This film will explore the concept quite a bit further as well as detailing further interatcions they had through the course of human history.

Next, we met Ivory Stanton, who serves as the Head Ager/Dyer signed my poster "Keepin' it Dirty" along with Tyra Youland Ager/Dyer. Ivory, was particularly enthusiastic and invested in his craft. Like so many of these unsung heroes we met, his job may seem unglamorous, but without it, the movie stars would be less authentic and shine less bright. As we entered this department, they were aging a black leather cape. (Can't say who it belonged to, but it looked super cool!) He described the exhaustive process they have been through to get the new and otherwise beautiful piece of leather to appear several thousand years old. It was incredible, seeing the amount of time, energy and talent it takes to make a scene and everything in it appear so authentic.
Just before we left , he said, "Woah, waitaminute! I know something you guys would find cool!" Pulling out his phone he showed us images taken at a recent shoot. The photograph showed the tattered Decepticon flag seen in the movie banner above.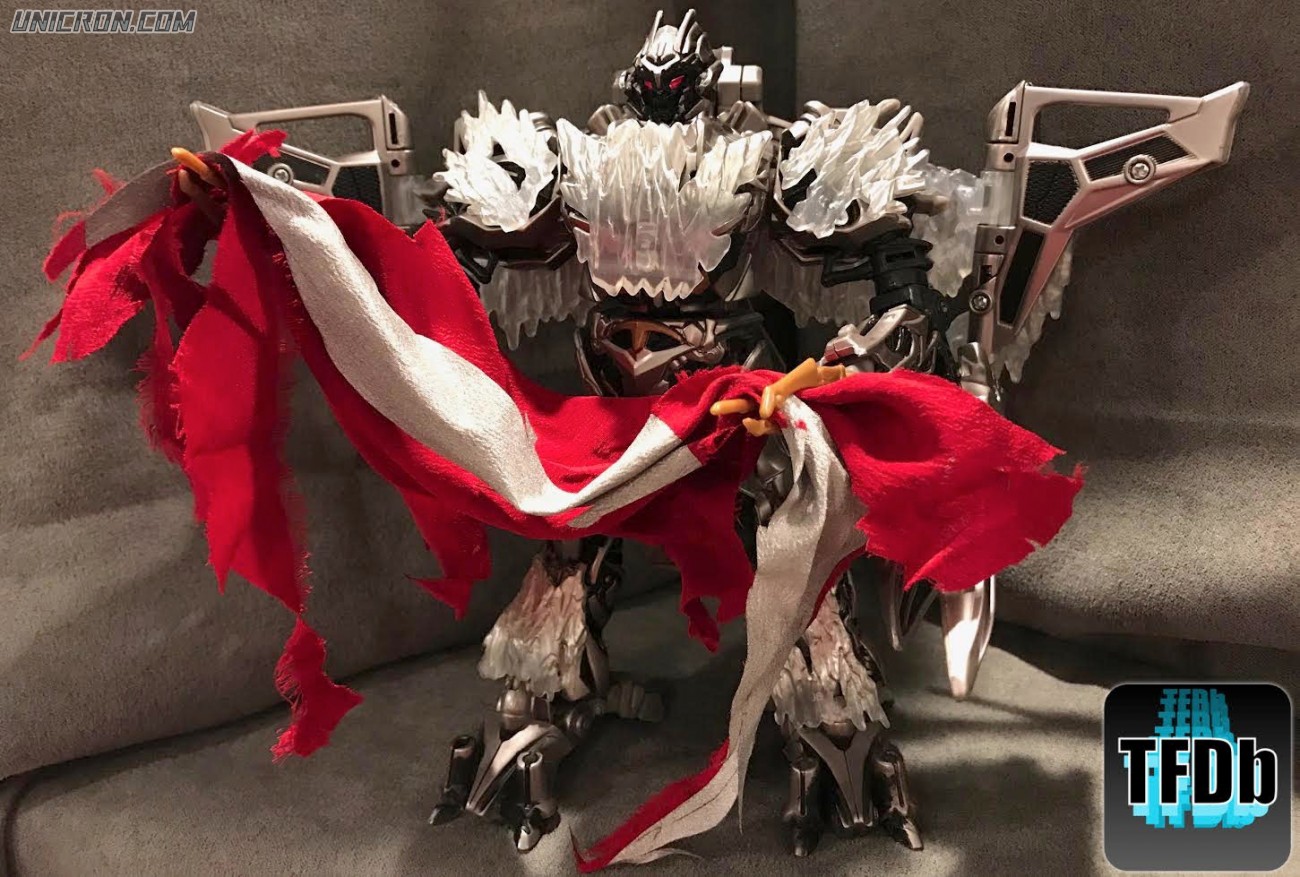 As site administrator David "The Last Autobot" of Transformers Peru, correctly points out, looks just like the flag of Peru!
This flag was produced by his department and Ivory was kind enough to provide us with what he called, "Flag Swag!" some of the tattered shreds of what had been cut from the flag. It will now forever adorn my Movie Decepticons toy shelf, and perhaps can serve as a cape for TF5-TLK Megatron!
In the last leg of the tour, we visited a second set piece, even more elaborate and impressive, where filming another scene with Mark Wahlberg and Laura Haddock was taking place. Even more than the first set/scene, what we saw the actors do and where they were cannot be divulged. Suffice it to say it was another MASSIVE Cybertronian-technology set, with deactivated robots, floors, walls and passageways. What impressed us here again was how little of what's seen on screen is CGI. Wish we were allowed to take pictures! You'll just have to trust me when I say, you'd be amazed how much of what you see is handmade, and how little is CGI!
During our time here, I had the chance to shake hands and meet Kevin Cerchiai – Boom Operator for all Transformers films, Andrew Cooper, Still Photographer for set and filming, Dave Deever Video Assist Operators, and Marc Brown who records footage that will be used in "Behind the Scenes" features when the film is released on Blu-Ray/DVD.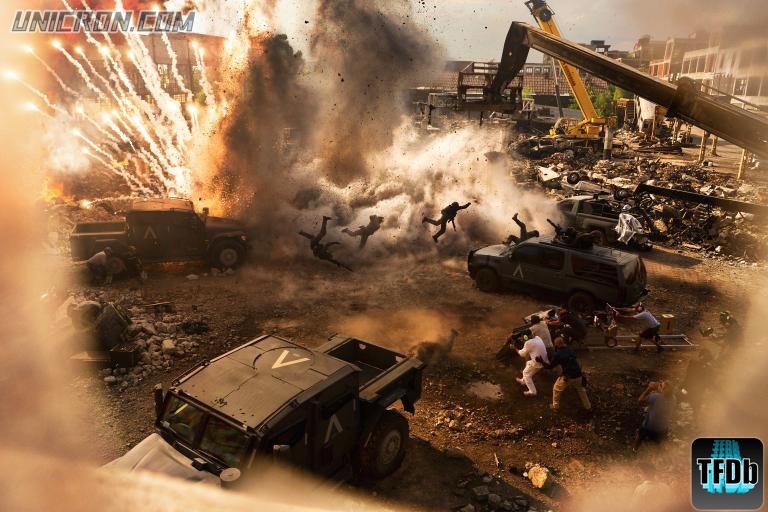 photo courtesy of Paramount Pictures, likely taken by Marc Brown "Behind the Scenes"
Between takes on the second set, Michael Bay was nice enough to swing by and say hello to our group. We talked about the grandeur of these enormous set pieces and all that we had seen this day. He was, understandably, guarded about discussing plot details of the upcoming film. While he's not exactly an "unsung hero" I think most of what he does day-to day goes largely under-appreciated. That's not to say I agree with every decision he's made with respect to plot or artistic direction of these films, but there's no disputing the talent and energy he has invested over the years is pretty remarkable.
Between takes, I was hanging back near one of the background green screens. At one point I was shocked to notice Mark Wahlberg standing right next to me! He was talking to one of the cameramen about this protein shake he's been using and was happy about. With poster in hand, I was about to aks for an autograph when I had to do a double take. WAIT, this wasn't Mark Wahlberg! It was a different cool dude named Dan Mast, who is Mark Wahlberg's stunt double. Too funny, their likeness is so remarkable he even had me fooled in real life! A very nice guy he too signed my poster just before we made our way to the final leg of our tour.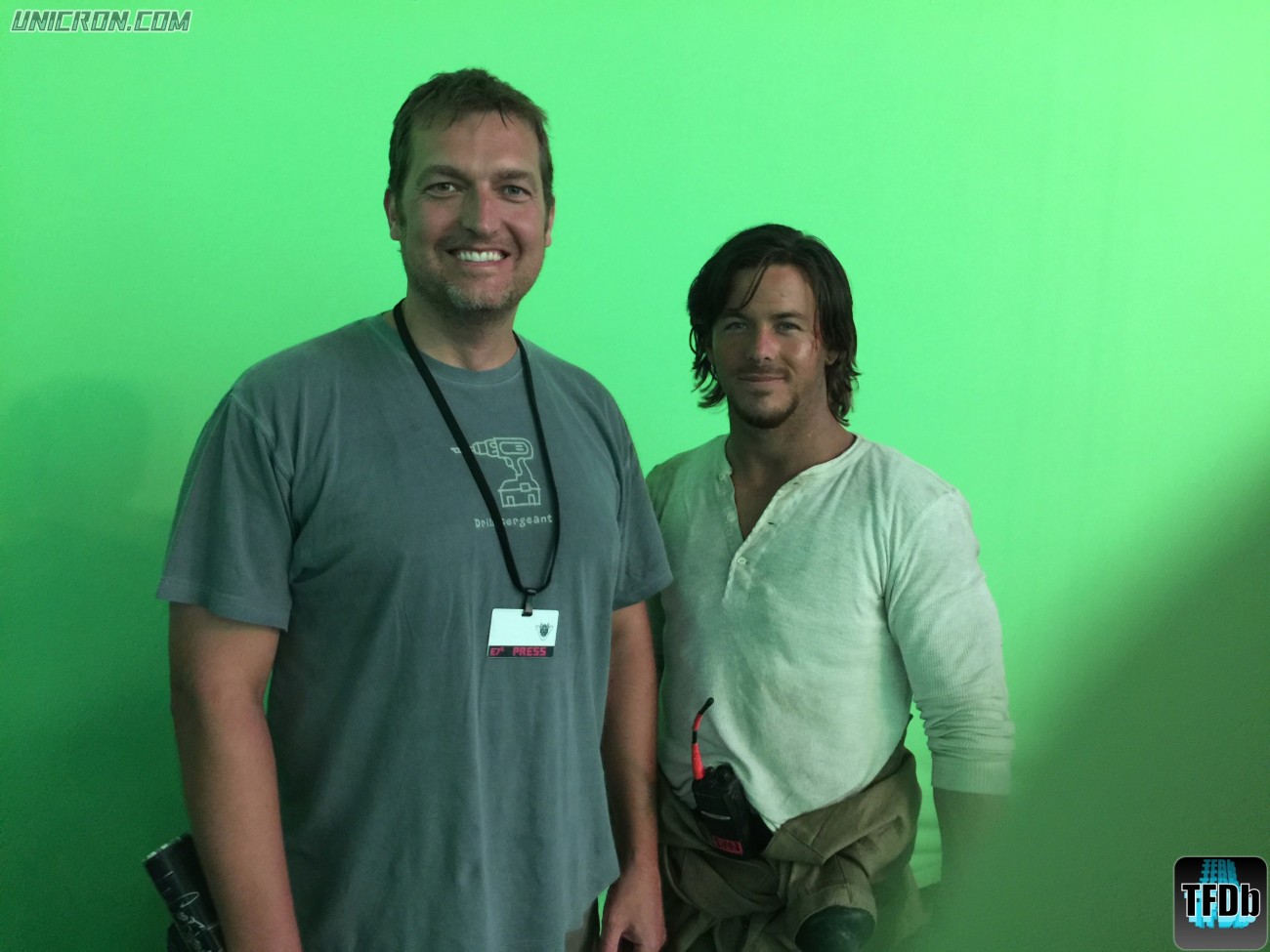 Near dusk, or as they call it on set, "Magic Hour." Michael Bay was about to film a Facebook Live segment with Barricade. Before they began shooting, we had the chance to get up close and personal with this Decepticon: Barridade. This boy in blue, literally now *in blue* was looking more bad@$$ than ever!
We would like to thank everyone at Paramount Publicity and Digital Marketing for hosting us and showing us such hospitality on this wonderful day! We would also like to extend special thanks to all those, "unsung heroes," the hard working men and women of the crew on the set, whose labors often go unnoticed or under-appreciated to bring our beloved Transformers to life and seem so real, on the big screen. Here's to all of your hard work and dedication!