It was early afternoon on Wednesday June 19, 2013 when Unicron.com's own intrepid reporters (and longtime news admin) Perceptor and Sabrblade arrived on the scene of Universal Studios, in Orlando, Florida. As we've become known for, Unicron.com site viewers were provided with a LIVE photo feed of events as they unfolded. Of course, they're not "live" anymore, but there are still some very good (lower rez) photos worth checking out in the slideshow below.
After our initial check-in, representatives from various media outlets were treated to a reception dinner, where we had the opportunity to meet members of the Universal creative development team. A video compilation of our (and other) interviews with Mike West, Executive Producer, Universal Creative, has been compiled below:
Although I didn't catch this segment on film, the developers made a humorous point about how as you are going through the Ride, there is a segment where it switches from simulated "real time" to a "Classic Michael Bay slow-motion" and if you watch the people riding, it's funny that they will react in slow-motion too! ... Hilarious, I bet I did the same in that scene as well!
We caught glimpses Optimus Prime and the Ride, on our way to the restaurant, but following the reception we were able to get right up-close and personal! I'll tell you what, this statue of Optimus is seriously IMPRESSIVE! "Life sized" complete with distressed metal and glowing eyes, OP looks like he just stepped off the battlefield! A video compilation of our experience of the Ride, and the sights, sounds and spectacle of it all, have been compiled in the YouTube video above and the image gallery of high resolution images below, which includes everything from the reception, the ride, even Sabrblade and my unfortunate encounter with Megatron!
The next day began with a special Red Carpet Event, with opportunities to inverview
- Mark Woodbury, President of Universal Creative
- Peter Cullen and Frank Welker, voices of Optimus Prime and Megatron (G1, TF:Prime and the Ride)
- Bryony Bouyer, Senior VP Global Promotions and Marketing, Hasbro
- Tom Williams, Chairman and CEO of Universal Parks and Resorts, Bill Davis
Video footage of our conversation with Frank Welker, coming soon!... The Red Carpet Event included not just opportunities to interview Welker/Cullen and other members of the creative team, but also Optimus Prime and Bumblebee made and appearance in auto modes, and (staged) a battle with the Decepticons(!) complete with real stunt jets and pyrotechnics!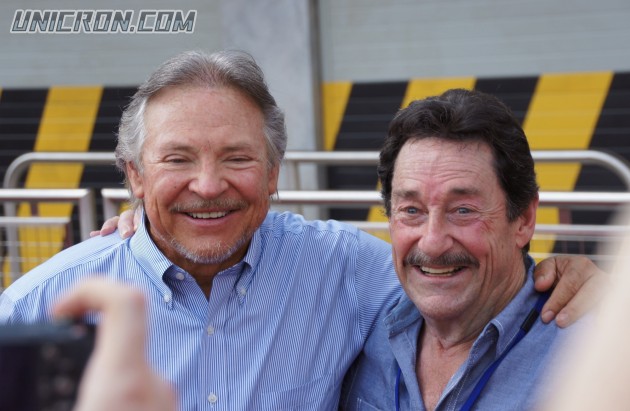 Please enjoy our gallery of high rez images from the Red Carpet Event below!
As it turned out, Steven Spielberg did make an appearance, but we were told he, "will not sign autographs and will not conduct interviews." What a treat to catch a glimpse of this Hollywood legend, as we walked down the red carpet! After the executive VIPs took the ride, I was fortunate to be in the right place at the right time! Politely asking a second time, (this time after the crowds had died down) we told his entorage of bodyguards to let me forward so he could sign my Transformers Dark of the Moon poster! He asked who else had signed it, I told him I had autographs from Michael Bay, Peter Cullen, and Frank Welker... Of course he moved along fast after that and we didn't have time for questions, but still, what an honor to meet this icon of film in-person!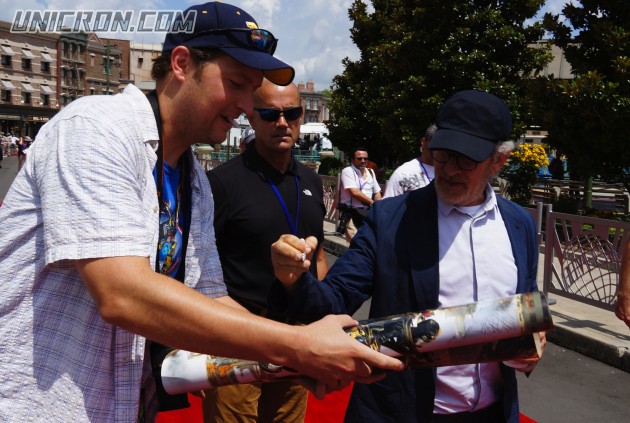 photo above, by Ryan Yzquierdo of seibertron.com
Below that's me (perceptor_at_unicron.com) and Miles (sabrblade_at_unicron.com) for our moment on the red carpet! :) We would like to thank everyone at Universal Studios for having us and hosting such a fun filled event!