Transformers Generations Metroplex (Fall of Cybertron, with Scamper)

Function: Autobot City

Motto: Metroplex heeds the call of the last Prime.

Alt mode: City, Defense Base

Weapon: many!

Metroplex in other sections:
Toy Gallery:
More resources:
TFDB community photos: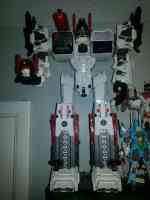 Other toy appearances (Metroplex):
Other toy appearances (Scamper):
You might also be intrested in...