| | |
| --- | --- |
| | Transformers Generations Sandstorm |
Toy Gallery:
More resources:
TFDB community photos: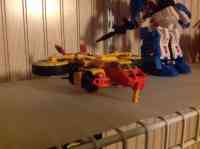 Sandstorm:
Sandstorm lives for action. His only real fear is a fear of boredom. As a result, he takes unnecessary risks, both in combat and out - risks that can sometimes threaten the success of his mission. He lives fast, loud and dangerously - traits that make him fun to hang out with mos of the time. But his felow Autobots are getting a little sick of his habit of giving away his position to the Decepticons just so he has the opportunity to enjoy a fight.
Other toy appearances:
You might also be intrested in...